It's fun shopping online; I know it is. But only if you're well aware of the process and steps. Many have fallen victim to the thousands of online scams considering they cannot detect a fraudulent site or payment gateway. So I'll just make your lives a tad bit easier, and by the end of this article, you're defiantly going to feel guarded as far as online-shopping goes.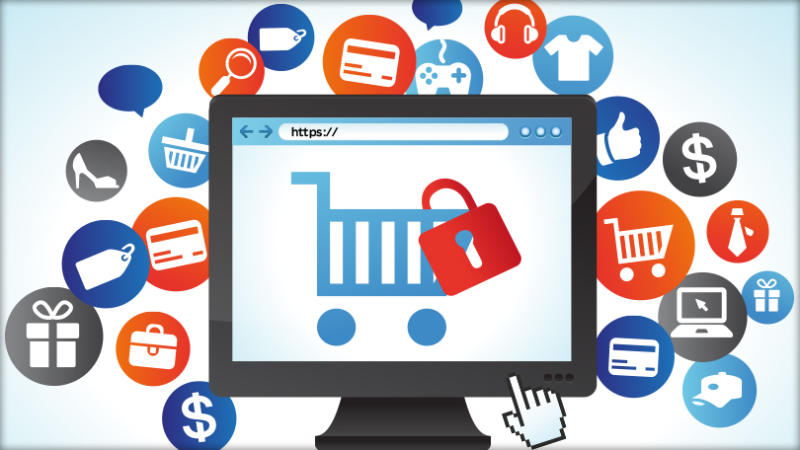 Give Selected Information Only:-
On any E-commerce platform, make sure you check out what the website is asking for. It's basic knowledge that no matter what, no company or payment gateway would be needing your PAN Card number or maybe a copy of your driver's license. The point is, having your credit/debit card info along with an address proves gives the fraudulent group almost ultimate power over your financials. So make sure you aren't giving away any more information than is strictly necessary.
Use Trusted Websites Only:-
The E-commerce industry might be huge, but the list of "trendy" websites is pretty thin. For, e.g., Amazon, Flipkart, eBay, Snapdeal, Alibaba, etc., are well-known, and they provide almost every good that can be purchased online, so why go to a crappy company you've never heard of before? It's effortless to set up a fake E-commerce portal, list some goods there, take your money and never deliver. The payment statement can be modified, too, so you won't have any legal claim over them.
Hence make sure you're using platforms that already have a reputation.
READ MORE ARTICLES : 
Always check the

URL:-
It's one of the oldest tricks in the book. If I wanted to scam you, all I had to do was set up a website like Flipakrt.com or something similar.

Something that "looks" like a legitimate URL but is actually just a rip-off or clone of the original platform.

And then you'd go over there, select your product, pay, and then lose all your money.

So make sure whenever you land on an E-commerce platform, its URL is exactly what it should be.

Don't even accept "shorter" versions of the websites; something like amzn.com is surely not a legitimate source, although it might look like one.
Use Legitimate Coupon Sources:-
You often search for "coupons" while purchasing stuff, which is actually a good practice.  In fact, I not only support it but encourage you to do so. Just make sure next time when you search for Flipkart, Amazon, or even bewkoof coupons, your coupon sources are legit; something with the reputation of 7coupons is a good idea. If you do not use something with a good reputation, the coupon site itself can cause you enough damage.  Asking you about information related to your identity, contact details, and later on using those details to scam you out of a lot of money. Or the least they can do is send you to a fraudulent partner site. Also Check:-Speaking of "legitimate" coupon sources, you should check out these happily unmarried coupons. They've got some delicious deals.
Check for SSL Certificates:-
You must have noticed a small, green lock appear next to URLs when you're on E-commerce platforms. This indicates that the sites have an SSL certificate, and your payments will be secure. Although there's a "cheaper, not so professional" SSL version available as well, which just makes the URL come up with the "https" prefix, but is not exactly a "secure" connection, so make sure you aren't buying anything unless you see that lock on the URL bar.
Check the OTP and/or Checkout Page

:-
You generally get an OTP on your cell phone before making the payment, which also contains the "amount" you're going to pay. Ensure the OTP says the exact amount you're buying the product for and not more than it, in which case just cancel the purchase and shift to another platform.  Also, on the Checkout page, make sure the amount that's being reflected is what you signed up for and that it didn't miraculously go up for some reason.
Final Words